Access to the Internet has become an indispensable aspect of our modern lives, providing a gateway to information, communication, education, economic development, and social opportunities. However, the recent Internet Poverty Index (IPI) by the World Data Lab findings have revealed a disheartening truth: 15% of the global population cannot afford a minimum mobile Internet package. The 2023 index, presented yesterday, sheds light on the pressing issue of Internet poverty, emphasizing the urgent need for digital inclusion efforts worldwide.
The Internet Society Foundation is supporting World Data Lab to develop the IPI. This comprehensive measurement quantifies the extent of the digital divide and highlights the challenges faced by millions who lack adequate Internet connectivity. By understanding the barriers to access, we can work together to bridge the gap and ensure everyone has equal opportunities in the digital age.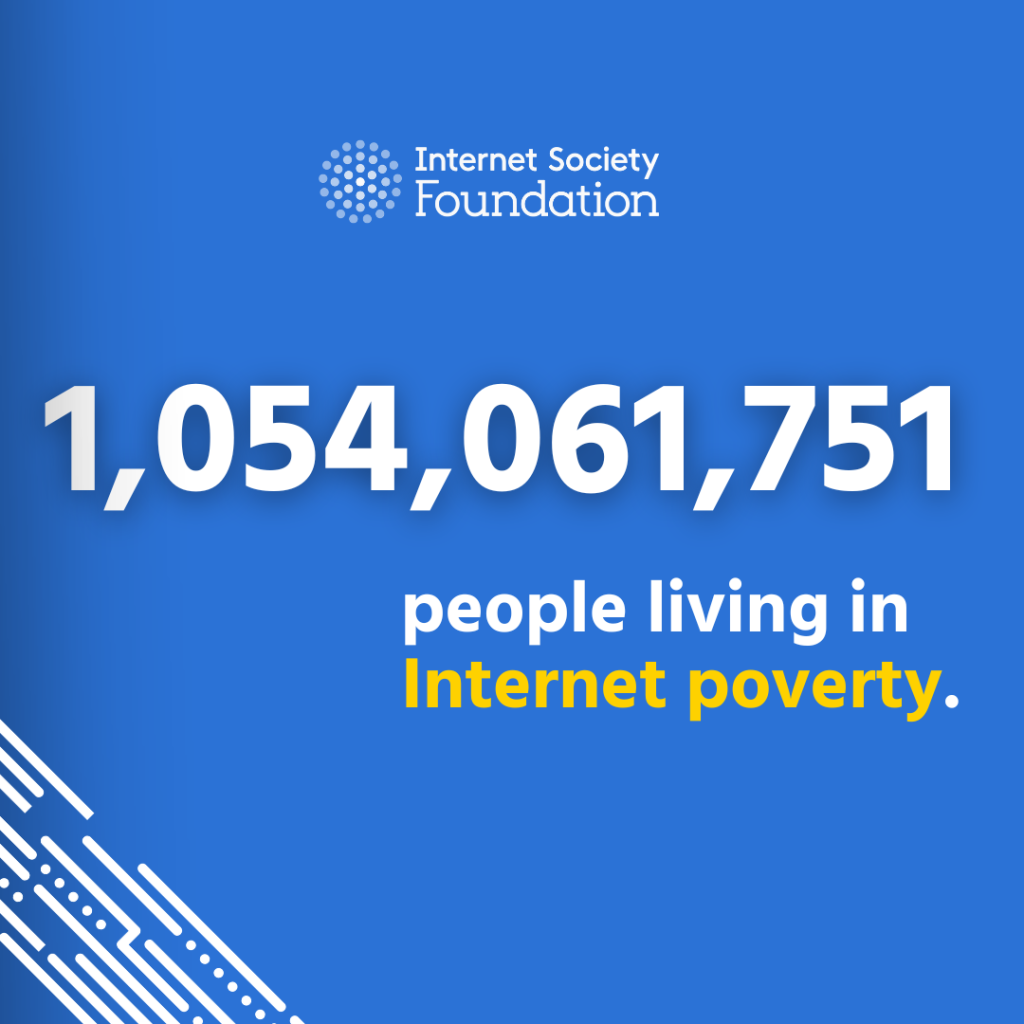 Internet poverty encompasses three critical pillars: affordability, quantity, and quality. To assess these factors, the index employs specific benchmarks. Firstly, it assumes that individuals should spend at most 10% of their expenses on mobile Internet to ensure affordability. Secondly, it considers a minimum of 1GB of data per month as a benchmark for adequate access. Lastly, the index deems a reasonable internet connection to provide a download speed of approximately 20Mbps, reflecting the importance of quality in digital experiences.
"At the Internet Society Foundation, we firmly believe in the Internet's transformative power. Our mission is to support initiatives that enhance the Internet's reach and functionality, ensuring it serves everyone. World Lab Data developed this groundbreaking index excellently through our Research Grant Program, providing vital data and insights for policymakers, researchers, and organizations to tackle the digital divide and prioritize digital inclusion," said Sarah Armstrong, Executive Director of the Internet Society Foundation.
Internet Poverty across the world
The IPI revealed that Africa has a significant digital divide, with around 524 million people living in Internet Poverty.
Despite being home to the largest population globally, Asia still has around 418 million people who need better Internet connectivity.
In Latin America & the Caribbean, around 95 million people cannot afford a minimum mobile Internet package, indicating a substantial digital divide.
In Oceania, an estimated 6 million individuals are in Internet poverty.
Europe has approximately 6 million individuals who lack adequate Internet access, representing a relatively small portion of the population in the region. The same situation is faced by around 5 million people in North America.
Countries with the highest Internet Poverty rates
The Internet Poverty Index has revealed the top ten countries with the highest rates of Internet poverty, where individuals face significant challenges in accessing affordable and quality Internet services. These countries ranked based on their respective population percentages living in Internet poverty, including Chad (83.6%), Madagascar (81.6%), Mozambique (80.6%), Burundi (79%), Solomon Islands (75.9%), Venezuela (74.1%), Malawi (73.5%), Guinea-Bissau (68.3%), Central African Republic (68%), and Burkina Faso (67.6%).
Countries with the highest prices
The countries with the highest prices for a minimum package of mobile Internet are Lebanon ($37.7), Panama ($26.6), United States of America ($25.5), Saint Lucia ($25.4), Barbados ($22.9), Canada ($22.4), Jamaica ($22.3), Saint Vincent and the Grenadines ($22.0), United Arab Emirates ($20.3), and Honduras ($20.3). These prices, denoted in US dollars per month and based on 2017 purchasing power parity (PPP), highlight individuals' financial challenges in accessing affordable internet services in these regions.
Countries with the lowest prices
On the other hand, the countries with the lowest prices for a minimum package of mobile Internet are the Central African Republic ($8), Sierra Leone ($7.5), Malawi ($7), Myanmar ($7), Ethiopia ($6.8), Pakistan ($6.6), Afghanistan ($6.5), Sudan ($6.3), Yemen ($5.5), and Sri Lanka ($4.9).
The Internet is for Everyone
The Internet empowers individuals, educates communities, and enables connections that transcend geographical boundaries. By bridging the gap of Internet poverty, we can unlock tremendous potential, allowing individuals and communities to thrive in the digital era.
We invite you to join us to build a more inclusive digital world. Together, we can ensure that no one is left behind and that the benefits of the Internet are accessible to all. You can access our funding areas at this link: https://www.isocfoundation.org/funding-areas/