In the rapidly evolving digital landscape, the intersection of technology and human rights has become a critical area of concern. In 2011, Access Now hosted the inaugural RightsCon, then the Silicon Valley Human Rights Conference. What started as a pioneering gathering has since blossomed into a global movement transcending geographical boundaries and bringing together diverse stakeholders committed to building a rights-respecting digital future. 
The Internet Society Foundation participated in the last conference held in Costa Rica from June 5-8. The Internet Society and the Internet Society Foundation hosted seven sessions, both online and in-person, at the conference. The presentations included conversations on Internet fragmentation, encryption, regulatory policies, the economic impact of Internet shutdowns, and more.  
In this blog post, we share some key learnings from the speakers who participated in a rich exchange in more than 600 panels.
 Engaging and consulting with Indigenous communities is vital when working on program design and planning around decolonization efforts. 
There is a need to include practitioners and community leaders within the governance structures of your organization. 
Funders should limit rapidly changing strategies. There is a strength in being adaptative while remaining set on your organization's focus and goals.
Building relationships and community is like building infrastructure – slow, challenging, but also strong and lasting. 
False climate and digital rights solutions focus on the product and not the institutionalized systems. 
The right to repair technologies and systems plays an important role in creating a sustainable digital future. 
There are systemic barriers to communities participating in governance. However, it's vital for grassroots conversation to contribute to decision-making. 
There needs to be an understanding that there is a local structure and community in place that holds knowledge and power.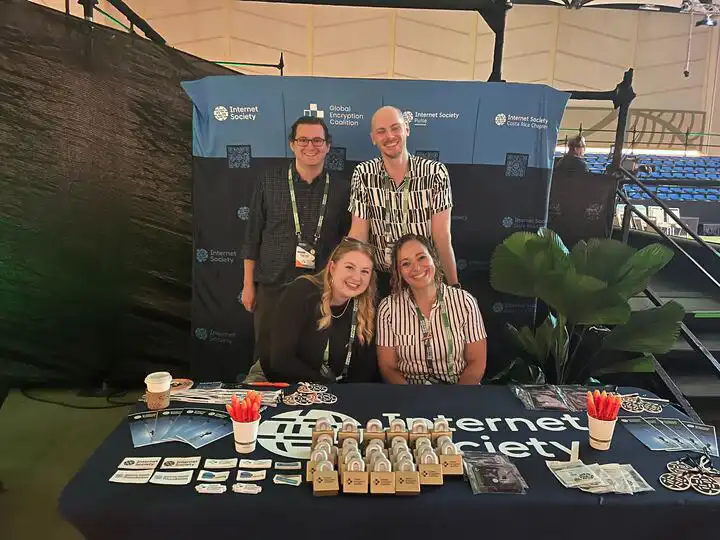 Ryan Polk, Director of Internet Policy; Callum Voge, Director of Governmental Affairs and Advocacy; Remy Hellstern, Grant Specialist; and Nancy Quiros, Senior Community Engagement Manager for Latin America and
RightsCon 2023 has provided invaluable insights and lessons. As we reflect on these topics, we are inspired to embrace these principles in our own work, recognizing the vital role we all play in safeguarding human rights in the digital age. Together, we can collaborate, innovate, and advocate for a future where technology serves as a tool for empowerment and respects the fundamental rights of all.