By Jen Ross
When COVID-19 hit New York City, the Streaming Station Community News Project was barely getting started, after receiving an Internet Society Foundation Beyond the Net grant for close to $30,000 in December 2019.
The original plan was to set-up studios where underserved communities in Harlem could produce and stream news and informational programming for and about their community. The project team had opened studios in East and West Harlem just as social distancing, self-isolation and quarantines began.
Gathering folks together in a studio no longer made sense, so we adjusted our mission. All of a sudden it made sense for news about COVID-19 to be shared. People were dropping like flies but we had no way to communicate with people."

Stuart Reid, co-Chair of Digital Divide Partners and Internet Society New York Chapter Board Member
It is estimated that nearly half of New York's public housing population does not have home Internet access. Some don't even have a mobile phone connection.
Many elderly and disabled residents living on high floors of buildings were unreachable and community leaders from Manhattan North needed help connecting people. So, the project jumped into emergency response mode and began distributing mobile radios. It also activated the WHCR emergency broadcast team, created after Hurricane Sandy hit New York in 2012.
Community leader Polly Spain, President of the Federal 8 Housing Group, says the streaming project has "made a world of difference – it's been a matter of life and death, really! … We set up access to food, figured out who needed health services … and lawyers, because many people are facing eviction after losing their jobs. It's been very uplifting for the community."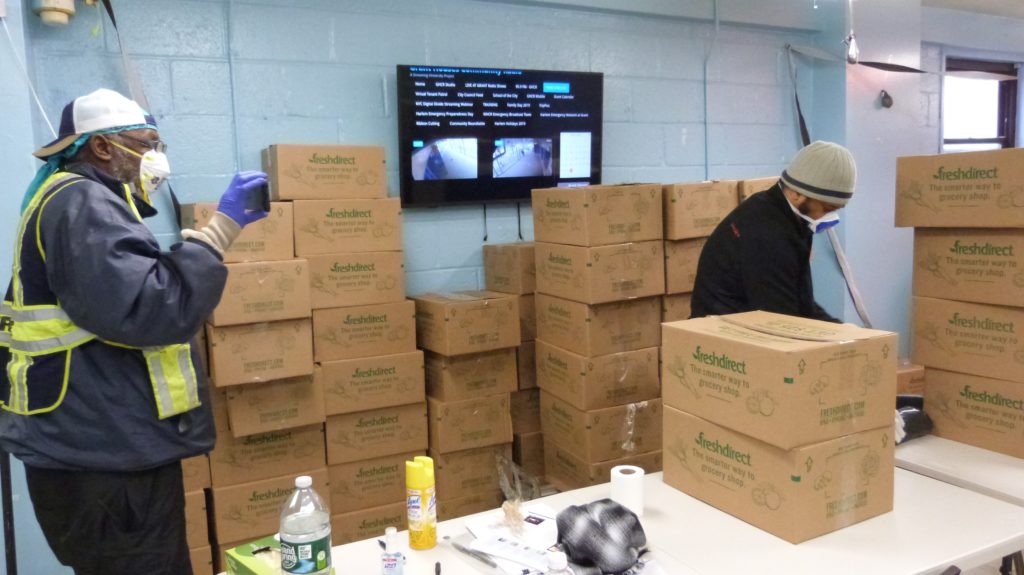 Spain recounts how one single mother with a baby and a 4-year-old contacted her after hearing about the streaming project through Facebook. "She was out of work and desperate. She was crying asking how she could get pampers and milk for her children. She couldn't stand in a line for hours with her kids. Just having someone to talk to was important. We actually delivered food and those items to her and set up free food to be delivered every three days from a local food pantry. … It's a beautiful experience to see that we're making a difference. It's truly been a lifeline for the community."
Reid says the project team began streaming shows to keep residents informed about everything from health and safety precautions to local food distribution. They also set up a series of websites to host their community-produced content.
"It's been a powerful adjunct," says Reid. "And we realized we could use applications like Zoom as remote studios, then stream these live programmes on the website, Facebook and YouTube."
Under a separate four-year project, Digital Divide Partners installed the YFi Community Network with 500 nodes around the city, which the current project will expand. Some residents can watch community-produced programming using the YFi available in 10 public housing developments in Harlem and South Bronx. Those without YFi can use mobile phone data or listen to streamcasts on FM radio or their mobile phones (even without using data, by enabling FM reception).
The community-produced programmes include news broadcasts, discussions and motivational shows. 'The Wisdom Table', co-hosted by Brother Leroy, is produced by and for another group underrepresented in mainstream media: senior citizens. The show invited various doctors to speak about COVID-19 prevention, including naturopaths and a black female microbiologist. Viewers could ask guests questions via YouTube or Facebook.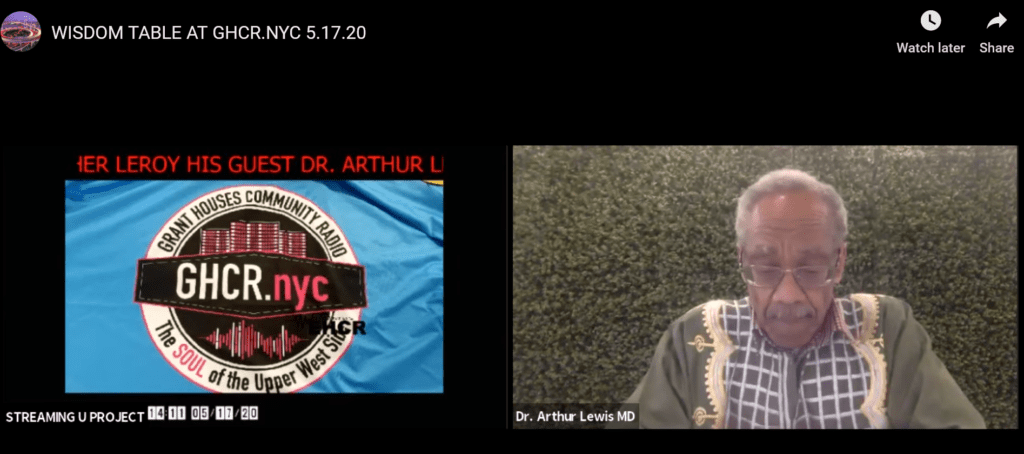 "Everyone was scared like hell because we're in the epicentre," stresses project co-lead and Digital Divide Partners co-Chair Doug Frazier. "Once we got all these doctors on, it helped calm people down. At the time, you couldn't see a doctor, and you couldn't go to the emergency room if you didn't have COVID… so being able to talk to a doctor was worth its weight in gold."
One Wisdom Table show, broadcast on 10 April, garnered over 4,400 live views on YouTube alone.
"It's been electricity in terms of the engagement and enthusiasm," says co-host Brother Leroy, adding that having the community tell its own stories "gives added dignity" to residents, making the project "a game-changer". His show takes an educational approach to explaining medical terms, such as viruses, the immune system, co-morbidities and COVID-19. It also combats misinformation and builds critical thinking, while dealing with angles not covered by mainstream media.
He plans to examine the global protests that have erupted since the killing of George Floyd in Minnesota in a future show, and Spain plans to address how to make policing more humane.
Spain also co-hosts the show Community and Technology, has helped organize townhalls, and posts information in Spanish to reach Harlem's large Hispanic population.
Another show tackled how Harlem's high population density and higher poverty rates have made it a hotspot for COVID-19. In fact, after mapping the city's death rates and active cases on a city website, Reid and Frazier realized that their zip code (East Harlem 11029) was the hardest-hit in Manhattan – the only one registering 1,449 to 4,104 cases on 4 May.
I don't think people realize how important it is to have a voice. We say: 'here's the FM radio, here's a walky-talky, here are the cameras, here's the YFi and here's your own community website;' then, they feed the content over the free Internet. … We give them a turn-key project that allows them to do all these things they previously couldn't do."

Douglas Frazier, Project co-lead and Digital Divide Partners co-Chair
The streaming project is currently reaching 50,000 people and aims to reach 150,000 by the end of 2020.
Its ability to adapt and shift quickly into emergency response and preparedness is a testament to the resilience, strength and sustainability of the project, and of the community involved.
Still, Frazier says COVID-19 underscores the need to further expand home Internet access:
"There's been a paradigm shift. It's not about affordability; it's about access. You have to give it to everyone. When you guys came along, the whole thing started to come together. You believe in funding for an Internet for everybody. Before, nobody believed in that – nobody cared."