by Nicoletta Metri
In one of the largest urban slums in Africa, people live in abject poverty. The nearly 200,000 residents of Kibera, located in Nairobi, Kenya, have an average income of a little over $1 a day. Unemployment rates in its 13 villages are high, while many people lack access to basic amenities such as adequate medical care and clean piped water. Because there are few public schools compared to Kibera's large population, and because of the cost of private and community-based schools, many families find it difficult to access quality education for their children.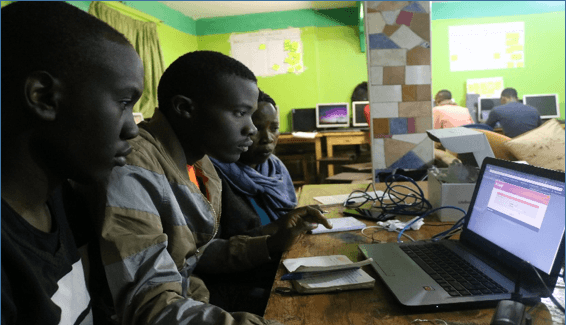 In 2016 the Tunapanda Institute decided to address some of these issues. The non-profit social enterprise, which runs technology, design, and business courses in extreme low-income environments in East Africa, created TunapandaNET, an urban community network. The main goal of the network was to improve education, health, and business in the community and to provide trained teachers and learning resources.
In 2017, in partnership with the Internet Society, the International Centre of Theoretical Physics (Italy) and Rhinotivity (Denmark), TunapandaNET established four network nodes. These nodes connected the Tunapanda Institute with two schools and one youth center, reaching a total of 1,800 youth. The next year, in partnership with the Internet Society's Kenya Chapter, and with the support of the Internet Society Foundation and its Beyond the Net Medium and Large Grants, the Institute added an additional ten nodes.The network, which uses the 2.4 GHz and 5.8GHz unlicensed spectrum, now connects the Tunapanda Institute with seven schools, two youth centers, and one women's center.

"Having a pipeline of skilled expertise is a key component of a sustainable community network. The team completed the ISOC Wireless Community Networks course and also partnered with the University of Eastern Africa Baraton to get training on building scalable networks using Ubiquiti and Mikrotik equipment. 127 youth were trained in digital literacy and wireless networking. A great achievement, considering that the number of students participating exceeded the set goal of 80."
— Josephine Miliza, Network Engineer and Project Manager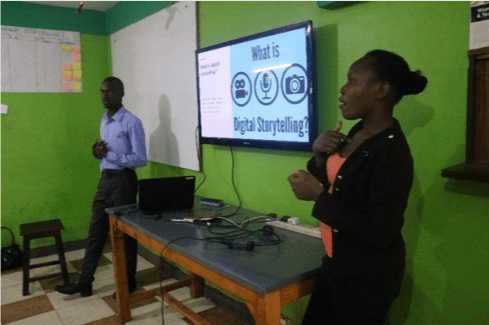 With the technology infrastructure in place, the TunapandaNET team was able to train marginalized groups, including women and young people with disabilities, on digital literacy to increase their capacity to learn new skills and earn a living. The project also worked on closing the digital gender gap by empowering women through the use of communications technologies. Fifty-three women were trained in digital literacy and online safety. The overall goal was to protect them from online dangers and to ensure they have equal access to digital tools for professional and personal success. The team also offered a 3-hour session to hearing-impaired youth on digital storytelling and photography, which was assisted by a sign language interpreter.

TunapandaNET Training Numbers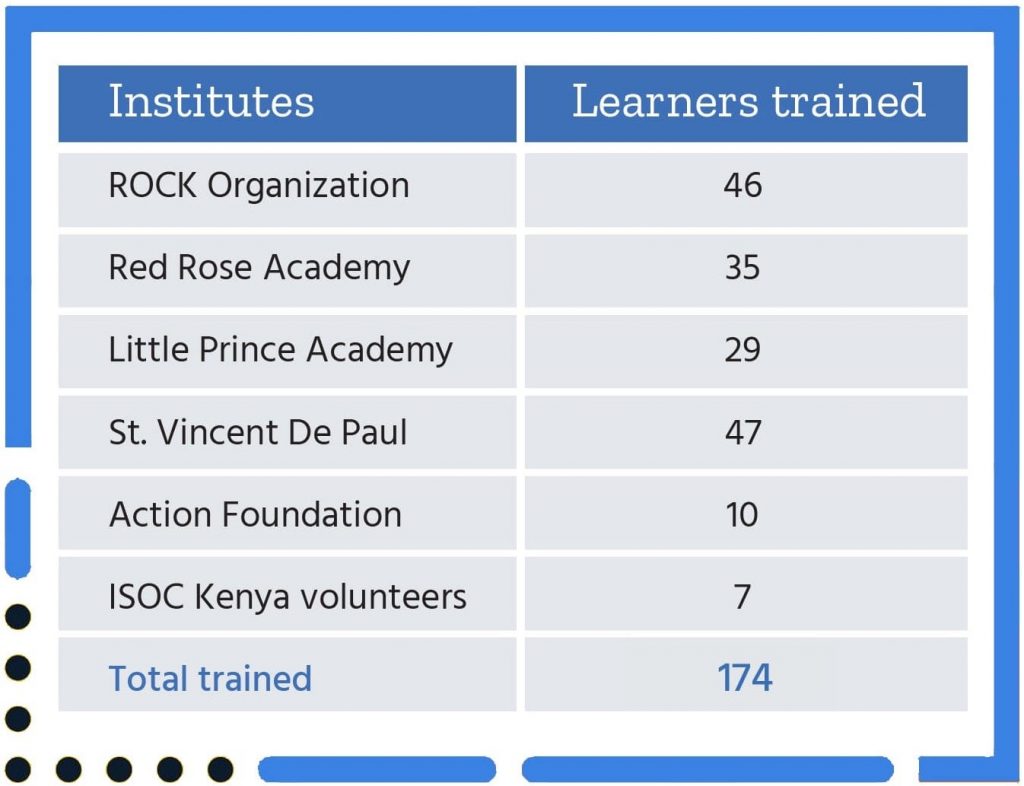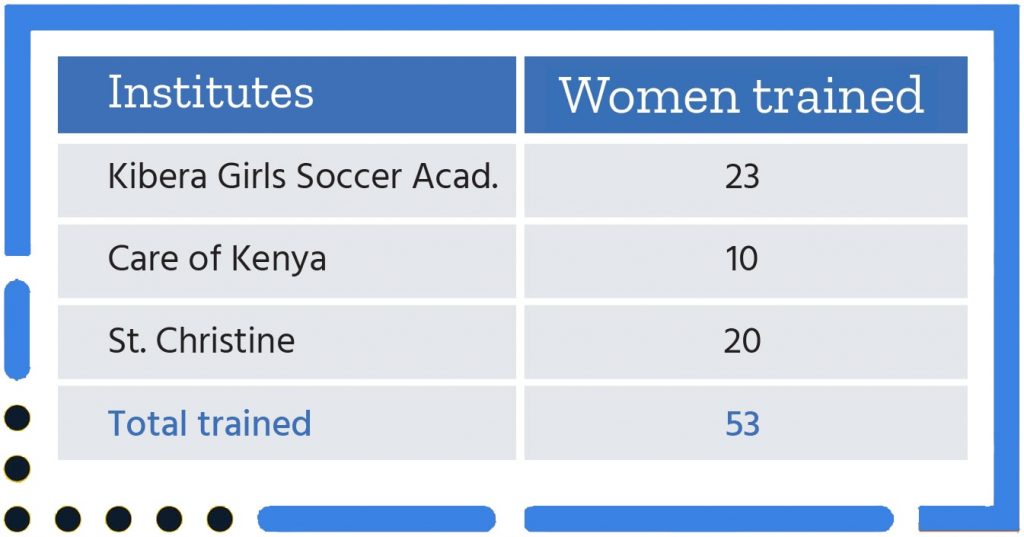 In addition, TunapandaNET now provides many in the Kibera community with: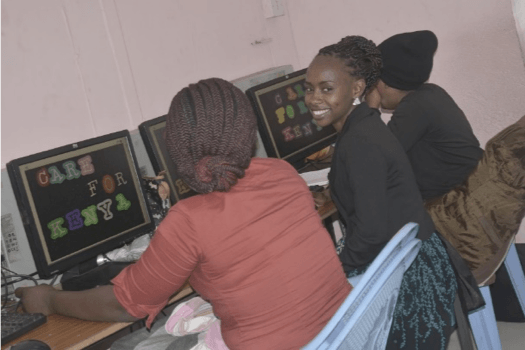 Internet access
Swag: a gamified, open-source e-learning platform meant to deliver educational content that allows users to create and share their content within the platform without an Internet connection
Access to Kolibri, a cloud-based e-learning platform designed to provide offline access to open content libraries and support teachers with materials such as lessons and assessments
Digital skills training for teachers, youth, and women
Technical support for schools and community centers
TunapandaNET's journey confirms a key takeway from Understanding Community Networks In Africa. A community network is more than just Internet access. It's a tool to enhance the work people are already doing to improve the lives of their communities.
That spirit is echoed by Network Engineer and Project Manager Josephine Miliza, who says, "When working with low-income communities,the value of the network has to…contribute to their economic growth. Our mission is to create an environment for lifelong learning and solutions for improved livelihoods and self-expression."

TunapandaNET's community-driven work is already making a difference locally, but its impact extends far beyond Kibera's 13 villages. The United Nations has highlighted the critical role that Information and Communications Technology can play in the achievement of Sustainable Development Goals (SDGs), which aim to address global challenges such as poverty, leaving no person behind. TunapandaNET addresses the SDGs that: ensure inclusive and equitable quality education and promote lifelong learning opportunities for all, empower women and girls to achieve gender equality, and upgrade existing infrastructure to make communication technology available to all people.
Today is International Day for the Eradication of Poverty. This year's theme is "Acting Together to Empower Children, Their Families and Communities to End Poverty." TunapandaNET shows that by working together, communities can be empowered to create their own networks – which can help break the cycles of poverty.
Watch Promoting Gender Inclusion for Community Networks in Africa, in which Josephine Miliza discusses strategies to bring more women into the community networks space and explores the role they play.
Cover photo ©Nyani Quarmyne/Internet Society