Less than 20. That's the percentage of women who hold tech jobs at some of the biggest Internet companies in the world. [Source: Forbes] These numbers reflect a global gender divide. In Sri Lanka, for instance, girls make up a little over 50% of the school population, but just 20% of those studying Information and Communications Technology (ICT).
Girls in Technology (GiT), launched by the Internet Society Sri Lanka Chapter in 2018, wants to change that. Supported by the Internet Society Foundation's Beyond the Net funding programme, the project goal was to increase the number of girls choosing ICT subjects. To do this, they introduced children to the Internet of Things (IoT) and the Micro:Bit platform and trained them to create stories, games, and IoT applications with Scratch, a fun and free programming language to design algorithms.
In universities, they introduced students to electronics and IoT via multiple training workshops as well as practical experience with basic electronic circuitry and Micro:Bit. Students were encouraged to use online tools such as TinkerCad for circuitry modeling and to experiment with various IoT applications. To test team leaders in programming, they launched an online Hackathon. Girls interacted with each other using Zoom and via social-media mentoring with those in the GiT program in other universities.
"I found a new community to help develop myself"

Chami Palawatte
By all measures, Girls in Technology has made a difference, increasing schoolgirls' participation in emerging Internet technology careers. It created new opportunities for young students to follow an ICT career by training 690 school children (415 girls and 275 boys), 294 university students (121 girls,153 boys), and 22 teachers. Several girls got internships at top Sri Lankan tech companies, while the all of the leader participants, who graduated in 2019 at the University of Kelaniya, were hired as research or software engineers. One participant, Rameela Azeez, was selected to represent Sri Lanka at Huawei Seeds for the Future, which covered her travel expenses to China. When she returned, she became a role model for the other girls.
"GiT made us all-rounders. For that, we are truly grateful"

Rameela Azeez
Beyond the stats, Girls in Technology created public awareness of the importance of women's participation in ICT education via social media. The project also participated in the biggest ICT expo and exhibition in Sri Lanka, INFOTEL 2018, as well as Innovate SL 2019 and the Shilpa Sena National Technology and Innovation exhibition to raise awareness among schoolchildren, university girls, teachers, parents, and policymakers.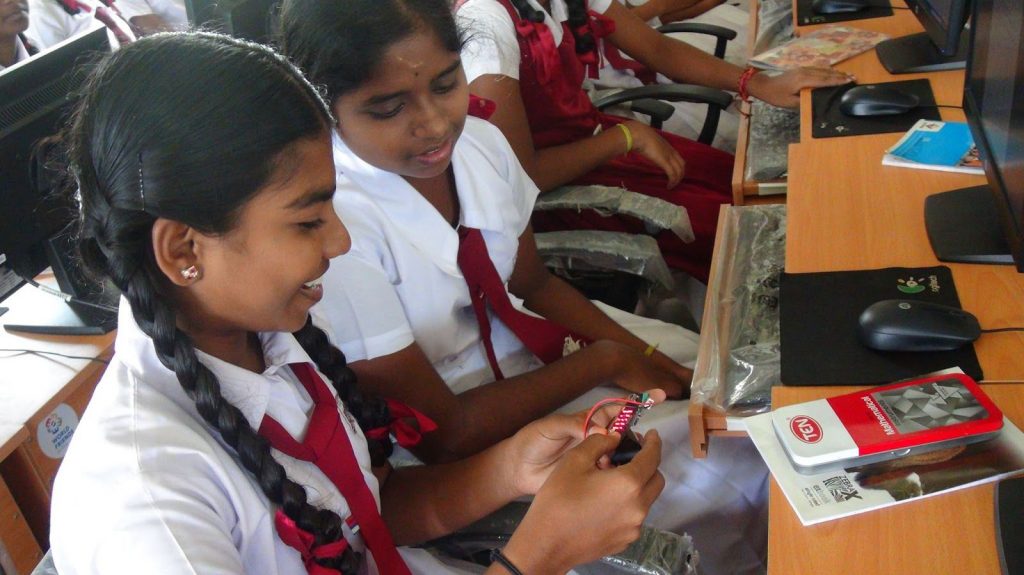 The 11th of February marks International Day of Women and Girls in Science, which hopes to make a difference in the lack of representation of women in STEM fields. Says UN Secretary-General António Guterres, "To rise to the challenges of the 21st century, we need to harness our full potential. That requires dismantling gender stereotypes."
This is especially important when just 30 percent of all female students select STEM-related fields in higher education and female students' enrollment in ICT fields is 3 percent globally.
"GiT helped me to master my programming skills"

Gaya Madumali
Girls in Technology provides a rich and diverse set of good practices in advocating the importance of equal opportunities for women's empowerment. Recognizing and supporting these activities is not only important for promoting gender equality – it is essential for socioeconomic development. There are billions of girls who are waiting to grow up to change the world, but they need access to a proper education and opportunities.
Learn about one girl's inspiring experience with Girls in Technology: